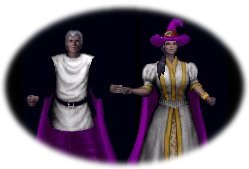 In the wee hours of the morning on December 30, Neve and Kaleel DeLeon became man and wife. It was a beautiful ceremony held in front of they good friends of both the Silent Wolf Pride Guild and the Elven Legion Guild.
Guildmistress Lynn of the Elven Legion was Bride's Maid, with Jason past Guildmaster of the Elven Legion, giving the bride away. Digger, of the Silent Wolf Pride Guild, was best man for the ceremony. Lady Counselor Morseca, of OSI performed the ceremony in the beautiful Palace of Nujel'm.
Vows were said in the midst of friends and fireworks.